2017 Spring Scientific Meeting
31st March - 1 April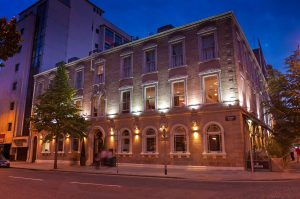 Ten Square Hotel, Belfast
Class II Treatment from Beginning to End
Dr Lysle Johnston

Treatment of class II with the Forsus appliance
Dr José Chaqués Asensi
Can't brush, won't brush; understanding dyspraxia in the surgery
Elizabeth Monahan
https://www.youtube.com/watch?v=1AzrMCok51M



REGISTRATION NOW OPEN 
OSI meetings are open to registered specialist orthodontists.
2017 OSI Spring Meeting Brochure

BIOGRAPHY
Dr Lysle Johnston DDs, MS, PHD graduated from the University of Michigan School of Dentistry in 1961 and from Michigan's Horace H. Rackham School of Graduate Studies (Orthodontics) in 1964. He studied anatomy at the Queen's University of Belfast (1961-2) and received a Ph.D. in Anatomy from Case Western Reserve University in 1970.
Dr Johnston has  lectured widely and is the recipient of numerous of honours. He currently serves on the editorial boards of a number of orthodontic journals, including both the American Journal of Orthodontics and Dentofacial Orthopedics and the (British) Journal of Orthodontics; was a member of the Oral Biology and Medicine Study Section of the National Institutes of Health; and was a director of the Edward H. Angle Society of Orthodontists.
Dr José Chaqués-Asensi received his Ph. D. Degree from the University of Seville in 1995. He has published numerous papers in national and international orthodontic journals of major impact. He has been a guest speaker for National Orthodontic Societies in Europe and Middle East and for Universities in Spain, Europe and USA.
Elizabeth Monahan B.A Grad., Dip Psy., M.Sc A.P.P.I Reg. Pract.  Psychotherapist has worked as a therapist since 2004, working with adults, teenagers and older children presenting with symptoms such as; eating disorders, panic attacks, bullying, anxiety and depression. Liz regularly presents at conferences in Ireland and abroad. 
EVENTS
Private Tour & Gala Dinner
Our Gala dinner on the Friday evening will be the Captain's Banquet at the Titanic Exhibition Centre, voted Europe's Best Visitor Attraction! A complimentary coach will transport delegates to the venue. We will have an exclusive after hours tour of the Titanic Centre followed by fine dining with panoramic views of Belfast - definitely an evening not to be missed!
Game of Thrones Tour
Sunday 2nd April -Full Day Tour €35 per person
For delegates who want to make a weekend of it, the Game of Thrones tour  is a full day tour incorporating the main filming locations along the Causeway Coastal Route, and also a visit to the Giant's Causeway, a UNESCO World Heritage Site!
McComb's Coach Travel