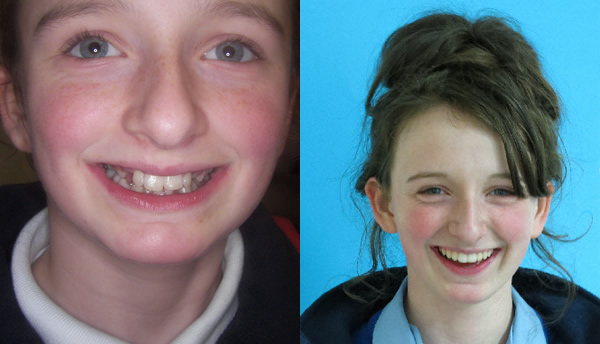 Emma Forde, aged 16 years, Navan, Co Meath treated by Dr Sinead O'Hanrahan
Emma was diagnosed as a priority for orthodontic treatment to correct her prominent front teeth and recessive jaw at the local HSE clinic but she faced a three year wait for treatment.
At the time her parents did think that Emma would have priority on the waiting list because of the extent of her problem but she just got the same letter from the HSE that every child receives. So as they waited, the problems with her teeth and jawline were just getting worse and they felt she would lose valuable time to correct the problem if she stayed on the list and that it would be unfair to make her wait any longer so they contacted Dr Sinead O'Hanrahan, Specialist Orthodontist in Navan to seek treatment privately instead.
Emma started treatment in October 2011 which entailed the fitting of braces and other appliances to correct her jawline and is delighted with the result. The overall treatment cost in the region of €3,500 but Dr O'Hanrahan was happy that it was paid this off on a monthly basis over the course of the treatment. Emma's parents were very appreciative of the care and attention that Emma received.