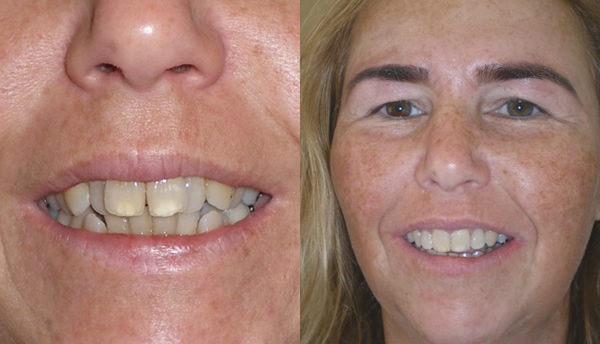 Nicola Cosgrave, Wexford treated by Dr Don Ryan
Growing up, I never liked the fact that my teeth stuck out when I smiled and as a result, I tended to avoid smiling in photos altogether, instead opting to keep my mouth closed.
When I turned 40 I began to think about it more seriously and in the end, it was actually my husband who mentioned to his dentist that I wasconsidering orthodontic treatment. His dentist recommended Dr Don Ryan as being the best in the county to do it.
Dr Ryan recommeded that I have three teeth extracted, which I did, and a week later my braces were fitted. I was very lucky as Dr. Ryan estimated that my treatment would take two years but in fact it only took 20 months in total.
I must say I had a really positive experience. Dr Ryan has a state of the art facility – clean and modern – and he talked me through the process from start to finish. The cost was clearly explained to me at initial consultation, so there were no surprises, and I could pay in four stages which was great. I was also able to claim some tax back from Revenue.
I am so delighted with the results. I feel like a new person, am more confident and it has made such a difference to me. I love having my picture taken now. When adults get orthodontic treatment, they have lived with having crooked teeth for a long time, so when they finish their treatment it's like a new lease of life.