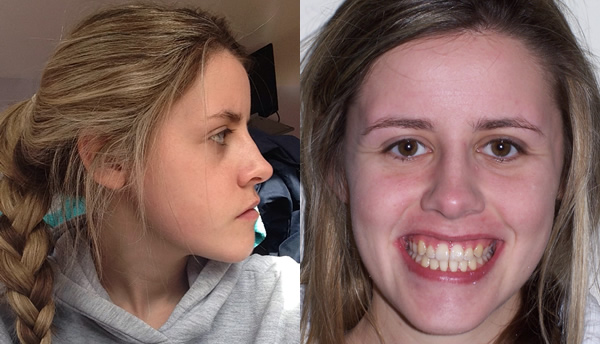 Aged 18 years. Dundalk, Co. Louth
Specialist Orthodontist:
Dr Sinead O'Hanrahan, Orthodontic Unit Louth County Hospital
From the age of seven years when the dentist advised my mum, I was very conscious that I had an overlapping jaw.  In recent years it was interfering with my social life and I was always hiding it from my friends. I felt it was very prominent and I got a quite an amount of slagging about it.
Following a visit from a HSE dentist to my school when I was aged 15 years old, I was referred to Dr Sinead O'Hanrahan, Specialist Orthodontist, Navan and HSE Orthodontist (and President, OSI) and I was delighted when she said something could be done about my overlapping jaw.
Sinead recommended that I should have braces first for two years through the HSE public orthodontics system. Then I would have surgery to correct both of my jaws performed by Mr Dylan Murray, Craniofacial and Jaw Surgeon, Temple Street Children's Hospital and the Mater Hospital.
I met Mr Murray several times before my surgery and the surgery took place in the Mater Hospital in mid 2013.
After the surgery my jaws were held closed with elastic bands for six weeks. I had to take nourishment through a straw as I could not open my mouth. Bit by bit I was able to move on to taking yoghurts and soup but it took approximately three months before I could eat normally again and throughout this time, I still had my braces on I was lucky to have VHI cover which paid for the surgery
My experience of my orthodontic treatment was also very consistent. I was reviewed at regular intervals and my orthodontist was extremely helpful and understanding. I am delighted with the results. I feel much more confident about myself. It was well worth the experience and I would do it again if I had to!